Welcome to RDSEA

International,

Inc. (RDSEA):
We thank you for pulling us
up on the web. Whether through word-of-mouth or a search, we understand that you have choices and options to pick from when involved in an offshore application. From initial design concept to data streaming, RDSEA brings a unique approach to "METOCEAN". 6-meters or 6000-meters, ocean, sea, bay or estuary; we have been there and understand the dynamics involved. Our foundation is based on "performance". We have built and continue to maintain relationships and partnerships developed over the past three-decades within the ocean community that are critical to the success of your projects as well as, our business. We look forward to working with you and contributing to the future success of your projects.
"Over the Side" News From the Field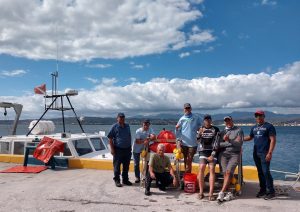 XPRIZE Completes the Shell Ocean Discovery and NOAA Bonus Prize projects, February, 2019.   RDSEA was a team member along with colleagues from NOAA, the Univ. of WA, South Florida, Puerto Rico and XPRIZE program managers on this incredible opportunity to test new technology within the sea-floor survey community and in testing new sensors for tracing chemical dispersants to their source.  
$7M Shell Ocean Discovery XPRIZE
, a three-year global competition challenging teams to advance ocean technologies for rapid, unmanned and high-resolution ocean exploration.  Teams successfully arrived in Kalamata, Greece in October of 2018 through December for the 4,000m survey test and in Ponce, Puerto Rico for the NOAA Bonus Prize testing.   Operations were completed in Feb of 2019.  A full update on the project will be given to the public at Oceanology International in San Diego, CA soon.  Figure shows the Technical Operations Team wrapping up vessel and mooring operations, Puerto Rico.