Welcome to RDSEA

International,

Inc. (RDSEA):
We thank you for pulling us
up on the web. Whether through word-of-mouth or a search, we understand that you have choices and options to pick from when involved in an offshore application. From initial design concept to data streaming, RDSEA brings a unique approach to "METOCEAN". 6-meters or 6000-meters, ocean, sea, bay or estuary; we have been there and understand the dynamics involved. Our foundation is based on "performance". We have built and continue to maintain relationships and partnerships developed over the past three-decades within the ocean community that are critical to the success of your projects as well as, our business. We look forward to working with you and contributing to the future success of your projects.
"Over the Side" News From the Field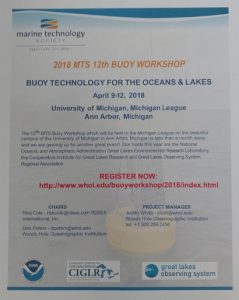 RDSEA invites all to join us for the 12th MTS Buoy Workshop at the Michigan League, located on the University of Michigan Campus in Ann Arbor, Michigan, April 9 - 13, 2018. Our hosts this year are the National Oceanic and Atmospheric Administration Great Lakes Environmental Research Laboratory (GLERL), the Cooperative Institute for Great Lakes Research (CIGLR), and the Great Lakes Observing System (GLOS).
For more information please go to this link:  http://www.whoi.edu/buoyworkshop/2018
Or contact Meeting Chair:  Rick Cole, 727-385-3834,  email:   rickcole@rdsea.com